You may not realize it, but it can actually be pretty hard to find places to study on campus. In most cases, your dorm is too loud. When you come home each night, don't be surprised to find that your roommate may be with friends or playing loud video games. The common area is too busy, because your fellow students are typically hanging out there too.
However, there are a few other places on campus that are perfect for getting your studying done. Many of these places allow you to pop in between classes so that you can catch up on studying, compile notes and brush up on material right before a test. Some of these locations you may not assume are great for studying, but they are actually the best spots on campus. Here are 5 great places to study in college.
Indeed, the library is a great place to study, because you cannot only study – you can also catch up on work with your online courses. For instance, if you are taking online courses with the University of Cincinnati, you can sneak on the computers in the library and get a lot done. You can then find a nice area where you can crack open your books and get your studying done. The great thing about libraries is that they are quiet and peaceful.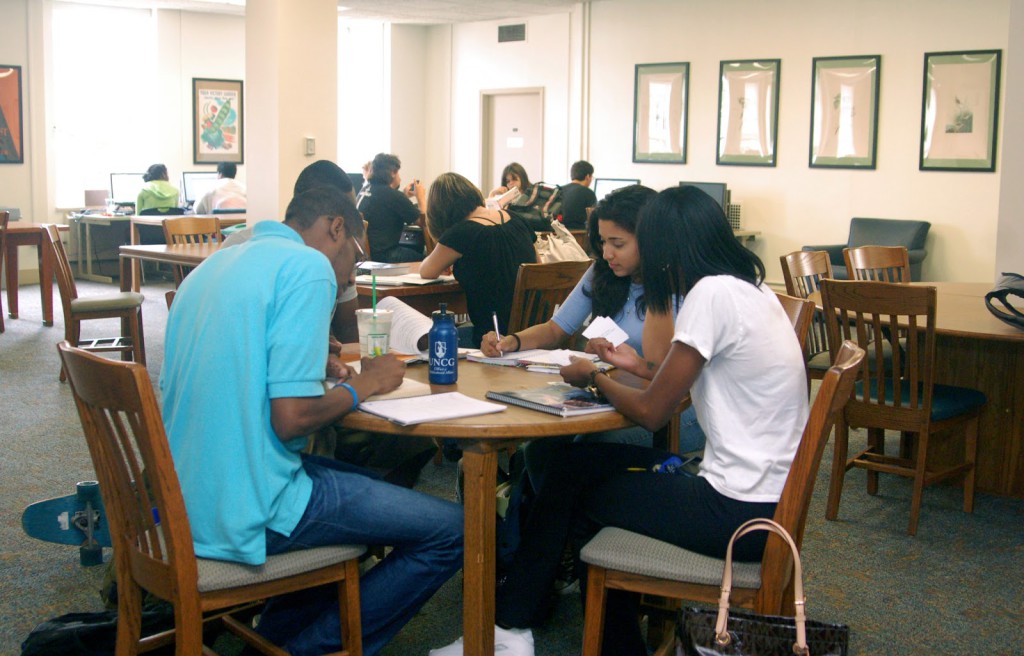 2. Local Café
If you are the kind of person that can work in a busy cafe, your college cafe may be the perfect place to get some work done. Sure, it may be busy, but you can also keep a good supply of coffee on hand so that you don't risk dozing off. Plus, there is a good chance that some of your fellow students will be there studying too. That way you can find an impromptu study group and review for your next big exam.
3. Campus Quad
Most colleges have a big grassy patch where you can rest, relax and get some much needed sunshine during a day of mostly staying inside. Of course, you probably won't want to study in the quad during the winter, but in the spring, it can be the perfect place to study. You may need to put out a blanket and maybe wear some sunglasses, but what can be better than absorbing some vitamin D and studying at the same time.
4. School Cafeteria
Just like the cafe, the cafeteria can be busy, but if you head in there after or between hours, you may have the whole place to yourself. In that instance, the cafeteria can be like your own private oasis where you can get all of your studying done. Plus, most college cafeterias are close to most classes, so you can stay centrally located without heading back to your dorm to study.
5. Independent Bookstore
On top of everything, you may want to think about ducking inside the bookstore to study. The bookstore, especially a small independent one, is great because there are a lot of cozy alcoves where you can take out your books, highlighters and get to work. In the end, some bookstores have a cafe, so you can get the best of both worlds.