Most of us cannot afford a Chanel evening bag or a handbag from Hermes, so we are left with only two options: we can either buy a vintage bag or a new one from less famous designer/ chain store. Both options, however, require a good understanding of what makes a bag durable and long-lasting.
You should always approach less known brands and online retailers of used goods with a healthy dose of doubt and double check the main handbag features, which can have a direct effect on the quality of the bag. Are you ready to learn how to determine whether a handbag is good quality? Let's start by checking the exterior.
Inspecting the exterior
The first thing to check is of course the material used to create the handbag. If you are buying what is advertized as a leather bag, check whether the leather is genuine and good quality. Good leather should have a distinctive smell and a soft texture. Too hard leather, which gives of squeaking sounds, might be bad quality or simply faux.
If the handbag you plan to buy is made of a different material, check if it has been coated and whether it is a waterproof material. If any unconventional material has been used to create the bag, check how durable it is.
If the handbag is made of a material with a print, always check whether the print matches on seams – this is the most distinctive sign that the handbag was created with a lot of precision. The seams should also be impeccable or in case of handmade bags – close to impeccable.
Very even seams can be achieved only through machine stitching, so small irregularities give you a hint that the bag was probably sewn by hand. Hanging or loose threads are not acceptable – they are the signs that the craftsmanship was poor. Last, but not least – check the bottom of the bag. It should be reinforced or include metal feet to protect the material from a damage, when you put the bag down.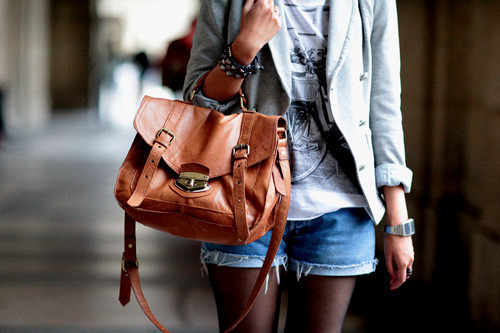 Checking the interior
The interior of the bag will also tell you a lot about the manufacturing. First of all, the lining. It should be made of a good quality material, not some cheap polyester. The lining should be in good condition and if it is made of a patterned material, the pattern should match at the seams. The lining should be stitched into the interior, otherwise it will be too loose.
Don't forget about the details
Hardware and zippers are without a doubt crucial to the overall quality of the handbag. If they are not made of durable metal, they will break faster than you think. Good hardware should feel heavy and have consistent color. Make sure that you checked the zipper – it has to work flawlessly. Before buying the handbag try opening and closing it a few times.
Although it is not mandatory, additional pockets on the interior or exterior of the bag can really make a difference – you can use them to keep your smartphone, keys, wallet or anything that can come in handy.
Alex Buka is a writer and Social Media Marketer with 3+ years of experience in SEO, IT and fashion copywriting and social media management.