The wedding season is just around the corner, and you're probably juggling with fitting sessions, jewellery, and of course, pre- and post-wedding outfits. Whether it is your wedding or your loved one's special day, there is a lot of pressure that rides with the outfits you decide for the D-day. More often than not, you find yourself stuck in a style rut.
But there is no need to fret! Nowadays, there is a trend to be different, and to try all kinds of fusions. By fusion, we mean going Indo-Western, and adding a twist to otherwise traditional lehengas. You don't believe me? All you need is some inspiration from some of the most fabulous designers our country has ever seen, all listed on the various Indian fashion websites.
We have come together with a list of the most beautiful fusion lehengas that you can add to your wedding collection, and rest assured, they all have something unique about them.
1. Multicoloured Lehenga
Instead of a two- or three-coloured lehenga set, nowadays, a trend of multicolour has become popular. This only makes it more vibrant, but also creates a sense of festivity amongst the people. It is modern, yet traditional, and the colours add a pop to the ensemble. Masaba Gupta lehengas are popular for this multicoloured trend, and they definitely bring a smile to your face. This multicolour lehenga with black embellished blouse is a fine example.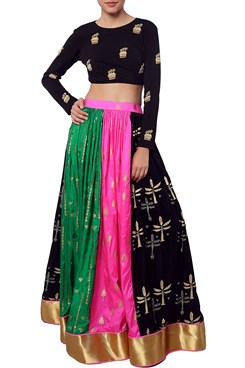 2. High-low Lehenga
This type of lehenga has a lot of panache as it is short from the top and again long after the first layer. This is the reason why there is so much volume and that adds to its charm. This yellow and pink high-low lehenga set has a fashionable boat-necked blouse with a yellow bottom, thus giving it a contemporary twist.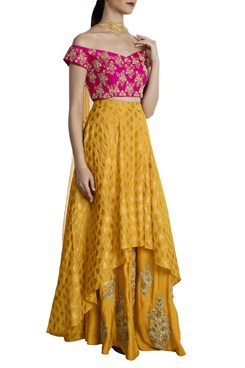 3. Crinkled skirt and blouse
Not a huge stretch from lehengas, this fawn crinkled skirt with black blouse from Malini Ramani designer collections is both contemporary and edgy. It is stylish and quirky at the same time. The colours in the one below are pastel and earthly, and it is perfect for a semi-modern event. It can be accessorized heavily because of its subtlety, and the entire outfit has a bohemian vibe to it.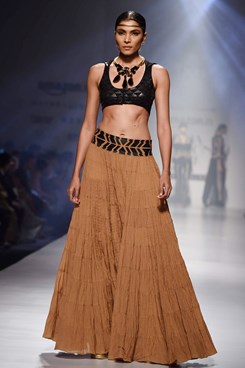 4. Cape lehenga
Another very interesting and exciting trend is cape with skirt lehenga that goes wonderfully with all traditional as well as modern festive events. This moss green number by Aneesh Agarwaal has an embroidered cape with a skirt, and it is perhaps the most exquisite thing we have laid our eyes on. It is delicate, soothing and looks magnificent with its flared skirt and intricate embroidery.