Pillows are not only synonymous to a good night's sleep, they can also increase the comfort level and improve the aesthetics of the room. Pillows not only provide comfort, it also provides the necessary support. Pillows are available in a number of varieties like therapeutic pillows, ergonomic pillows, throw pillows, etc. but the most common type of pillow that we see in households are throw pillows.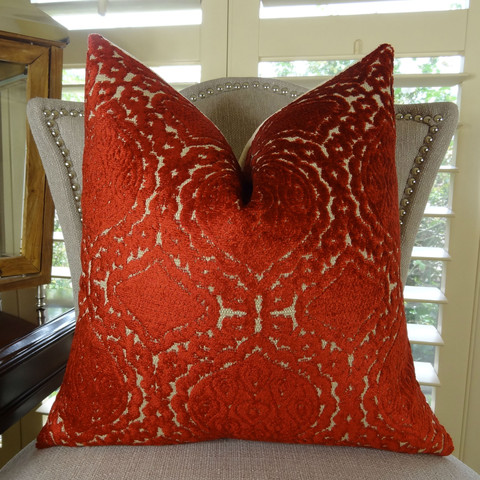 Pillows have been in use since a long time – as long as 9,000 years ago. The early form of pillow was born out of necessity, since the Mesopotamians wanted to keep their head above the ground level to prevent insects from entering their ears, nose and mouth. Pillows underwent a lot of changes and finally it got its form like the one we use today.
You can keep throw pillows on sofas, couches, chairs and even on your bed. So why are these pillows so much in demand? Apart from the aesthetics, there are many other benefits of using throw pillows for couch and sofa. Let's explore the various advantages of throw pillows for sofa:
Health Benefits
Throw pillows offer support and comfort and have many health benefits. They support the cervical spine in a neutral position. By relieving the pressure, the pillows also help to decrease biomechanical stresses and help to maintain the alignment of the spine. Throw pillows can also provide support for swollen or sprained legs.
By choosing the right kind of throw pillows, you can also minimize snoring problems and breathing difficulties during sleep.
Support for Babies and Toddlers
You can stack the throw pillows and provide the necessary support for the babies, when they are learning to sit up. Even when they learn to stand, you can place pillows around to ensure they don't get hurt when they fall. Moreover, throw pillows made of anti-allergic and soft materials can be used as bumpers inside the crib. When sleeping, you canplace a number of throw pillows beside the baby or toddler to avoid falling hazards.
What's more? You can choose special themed throw pillows for sofa to give the nursery a vibrant and colorful look. Children get attracted towards colors, so by adding some interesting colors, you can allow the baby to enjoy and explore.
Emotional Support
Often, when you don't have your loved ones close to you, a throw pillow can provide emotional support. You can hold it tightly, cry on it or punch it to release anger or frustration. You can also cuddle a throw pillow in memory of someone you miss. Siblings often enjoy pillow fights that help them bond better and have some fun time with each other.
Versatile Use
Apart from providing a good night's sleep and support, throw pillows can be used for a multitude of other activities. They can act as armrests, headrest when traveling in train or plane and provide support when reading or watching television.
Buying the Right Kind of Throw Pillows
Throw pillows for couch and sofa are available in a wide variety of shapes, sizes and styles. So depending upon your needs, you must choose the right kind of pillow. When buying throw pillows, whether for decoration or other purposes, you must consider the material with which it is made. Pillow fills are of many types and you or your children can be allergic to some of them. So know everything about the pillows before buying. By making the right choice, you can ensure the best value of money and get maximum comfort.
No matter what, throw pillows have been, and will continue to be an integral part of our lives.