Seeking for a perfect gift for your Love this Valentine? Well, your hunt ends here. Here, we have scoured the lands of Romantic Gifts and ideas that express your lady how much you love her
Re-establish your First Date
If you have been together for a while, then why not feel those special moments of your first date or meet again. Express your feelings of love to her by restoring your first date. It will mean the world to her knowing that you've remembered the day when you met her for the first time.
Ice Cream Maker
Nothing works better than a bowl of ice cream, when situation gets hot. But, what do you do, when there's no ice cream in your house at the moment. Well, with this Mine & Yours Ice Cream Maker, you can make up to 2 litres of ice cream using the quick freeze bowls in just 15 minutes.
Jelly Bath
Why not give your Love this Valentine a bath full of sensuous pleasure? Love Jelly is an exciting and erotic jelly powder that turns into a gorgeous jelly, when mixed it in a bath tub with water. The jelly creates a sensuous experience for both leaving a beautiful smell as it's infused with the Vanilla. To rinse it away, sprinkle the Step 2 in to the tub.
Special Gift
If you want to surprise your husband or boyfriend with a special gift, choose the sexy gift for husband to please him on this very special day of the year, the Naughty Knot would be the best present for your Love this Valentine's Day. What could be the best gift than presenting yourself wrapped in sexy Lingerie having a knot to be unwrapped?
Customized Silver Heart Necklace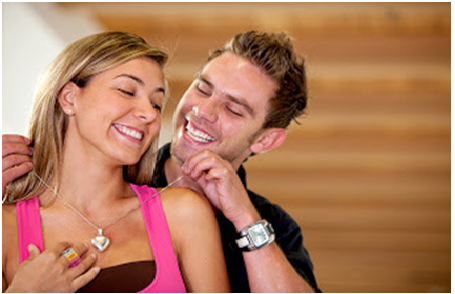 Gift your love with an eye-catching & personalized silver heart necklace engraved with your choice of words.
Lovers Chocolate Pizza
Nothing could be more romantic than sharing a pizza with your love on the lovely Valentine's Day night. Well, why not celebrate this day a bit differently by replacing traditional cheese / tomato pizza over delicious chocolate.
Motto Photo Display
Turn any wall into a masterpiece with this stunning photo frame with words "Live What You Love" molded into the middle. Personalize those memorable moments by filling this frame with photos that mean something to both.
Balloon Flower Bouquet
Flowers are a common and traditional gift to offer on any occasion. Why not give it to someone with a difference? This Valentine's Day thrill your love with this Handmade Balloon Flower Bouquet.
Sparkling Rose Wine with Chocolates
Celebrate this Valentine's Day with a delicious bottle of Sparkling Rose Wine and chocolate truffles, beautifully presented in a silk lined gift box. Show your sweetheart how much you love her.
Floral Love Letters
Last but not least, this lovely Word "LOVE" carved in White Wooden with vintage bloom & gorgeous red roses printed on it will add romance and make your day.
It's not necessary to buy huge and expensive gifts to express how much you love her. Even a simple balloon flower can do the magic. After all, Love is all we need.