Microsoft has chosen to open source vintage web service technology. Some wonder about the value, others await each new update. This article will explore it's value and how it affects the consumer.
Microsoft Open Sources Additional Technology
Microsoft has offered through Github an open-source version of Windows Communication Foundation technology. This is not the first technology that Microsoft has made available through open source networking, in the past they have released Net Core, CoreCLR to execute Net Core, ManifoldJS, and MSBuild to work with the Visual Studio tool set.
The Windows Communication Foundation was previously known as Indigo. It is used for building connected, service oriented applications. And it has been considered a vital tool for many years.
Microsoft offered an update on its open source progress with Net Core technology, revealing that 1,000 forks have been officially launched. The program manager Immo Landwerth says "we're still totally humbled by the massive amount of interest we see from the community. And we're also a tiny bit proud."
Is It Still Valuable?
Are these Microsoft releases still valuable to consumers? Well the most recent offering, WCF, brings the experts to debate. In past years it has been considered one of the most useful add-ons, receiving high marks from clients. However, it is also considered "last generation technology." What does that mean these days though? Sure new technology replaces dated technology at head turning rates but the "dated" still holds value.
Right? According to John Rymer of Forrester Research: "There's still investment by customers, but products and technologies aimed at RESTful services now have higher market value. Open-sourcing WCF makes it something of a commodity product, recognizing reality."
So there will be a demand for the open-source WCF, even if it is dated. This particular technology was so valuable in its time it will likely remain useful for many more years.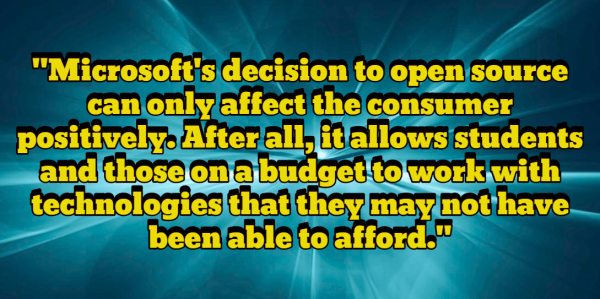 How Can This Affect the Consumer?
Microsoft's decision to open source can only affect the consumer positively. After all, it allows students and those on a budget to work with technologies that they may not have been able to afford. It also allows people to try older versions before purchasing new, in some cases. It will benefit Microsoft as new programmers and developers are able to try and possibly become hooked on a particular software that they may not have been willing to give a go in the past.
Mike Hansford writes that "With Microsoft open sourcing the server side bits, it looks like they want to see .NET services running on Linux / Mac. It seems likely that we could be running ASP.NET Web API services on Linux in the future." If he is correct this open sourcing may impact consumers, in the long run, way more than expected. It may lead to cross platform desktop applications. Time will tell how this effects things on a larger scale though.
Microsoft is getting on board at last, and even excited, about open sourcing. Even dated technology is a huge step and nothing but great news for consumers.
Katrina features an Ask Katrina video series on Youtube in a addition to being a product specialist with Rack Solutions.