This tutorial compares the two DSLR: Nikon D5300 and Canon 70D. Have a look on the comparison of these:
Nikon D5300
In this lightweight, full-featured DX-format DSLR, image quality, connectivity and creative control come together. The new EXPEED 4 is fastest image processor to date and complements the 24.2-megapixel CMOS. With its 39-point autofocus, improved white balance and wide sensitivity range, you can shoot stunning photos and full HD movies with Nikon D 5300. It's the first DSLR to feature a built-in Wi-Fi, so you can instantly transfer your photos. Its GPS function saves location information to your images. A crystal clear 3.2- inch LCD vari –angle monitor lets you shoot at any angle. With so many innovative features, the D5300 adds new dimensions to photography.
It has superb image quality through cutting edge innovations. The EXPEED 4 image processor is the perfect companion to the 24.2- megapixel DX- format CMOS featuring enhanced quality and speed. You can capture full resolution 12-bit RAW images at up to 5 frames per second. An improved white balance ensures brilliant whites, greater colour nuances, smooth gradations and sharp edges. You can enjoy greater resolution in any light. The D5300 is designed without an optical low pass filter (OLPF), allowing the high resolution CMOS sensor to record the smallest details with precision.
Its wide sensitivity range of ISO100-ISO12800 at normal setting delivers impressive noise reduction and is expandable to 25600 for extreme low-light situations. It defines every detail with its 39 –point Autofocus. For optimal sharpness, the D5300's accurate 39- point autofocus quickly locks on to and track subjects. Even when your subject is moving towards or away from the camera its 3D tracking mode seamlessly maintains focus. It's ideal for sports and video photography. You can choose from a variety of autofocus- area focus modes, including Wide Area AF, Face Priority AF and Subject Tracking AF to match your shooting styles. It has made Sharing easy, first DSLR with built-in Wi-Fi. You can share your precious moments the instant you snap them. Simply transfer shots to your computer or mobile device with the D5300's built in Wi-Fi, a first among Nikon DSLRs. A free Wireless Mobile utility app lets you remotely control the camera with your mobile device. You can log your travels with its built-in GPS function. When travelling record GPS and altitude information to your images so you can relive your adventures with ease and convenience.
A travel log function automatically maps your journey even when the camera is off. You can shoot at any angle with its 3.2-inch vari-angle LCD monitor. The D5300's large vari-angle monitor makes it easy to shoot from a variety of angles or to put you in the picture. Its 3:2 aspect ratio offers a wider full frame view compared to conventional 4:3 monitors. With its 1036.8k-dot resolution, a 170◦ viewing angle and enhanced brightness, you'll view your images with greater clarity.
Canon 70D
It has changed the way users capture still images and video with a DSLR camera. Canon proudly introduces the EOS 70D- a trailblazing powerhouse featuring a revolutionary autofocus technology that unlocks the potential of Live View: Dual Pixel CMOS AF. EOS 70D captures video in live view with smooth and precise autofocus. It is similar to camcorder with the superb image quality. It is a hallmark of EOS cameras. Additionally, dual pixel CMOSAF provides fast and accurate autofocus during Live View still image capture, enabling you to fully benefit from the freedom of angle allowed by the vari angle touch screen 3.0 inch Clear View LCD monitor ll.Two real world choices of live view and view finder shooting are available for limitless compositional options.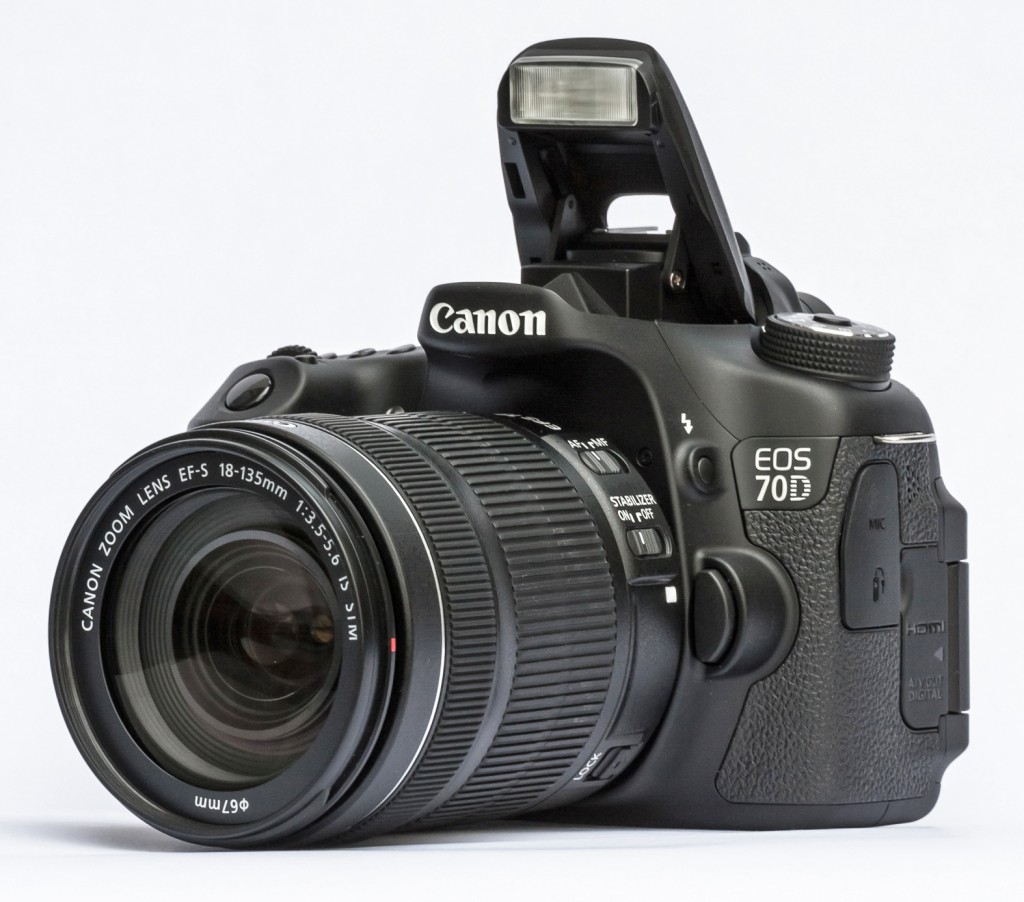 Cutting edge Dual Pixel CMOS AF on the EOS 70D is compatible with over 103 Canon EF lenses, greatly expanding creative possibilities further empowering the photographer. Built-in wireless technology and the EOS remote apps further enhance shooting versatility as well as enable easy sharing. The EOS 70D's 20.2 Megapixel C M O S (APS-C) sensor provides brilliant image quality, a first for an EOS camera with an APS-C sized sensor. A powerful DIGIC 5+ Image processor supports continuous shooting up to 7.0 frames per second, as well as an extended ISO range of 100-12800 (H:25600) that allows shooting in a wide variety of lighting conditions. Stunning photos can be accomplished using the remarkable 19 point all cross type AF system. With a high precision dual cross f/2.8 center point, and advanced display options available on the intelligent Viewfinder supply exceptional control.
In this camera even simple images are turned into spectacular photos with available imaging features like HDR, HDR backlight control, multiple exposure, Handheld Night Scene and Creative filters. Elevating the possibilities of creative expression to extraordinary new heights, the powerful EOS70D with Dual Pixel CMOS AF places the ability to capture both amazing stills and video right in your hands.
You can get both the cameras at throw away prices at ebay. You can avail the best of ebay deals through ebay coupons.