Home decoration is really an energy consuming thing. Home owners need to be familiar with every details of home decoration: style, decoration material, performance of different decoration material and how to choose the proper one for their homes.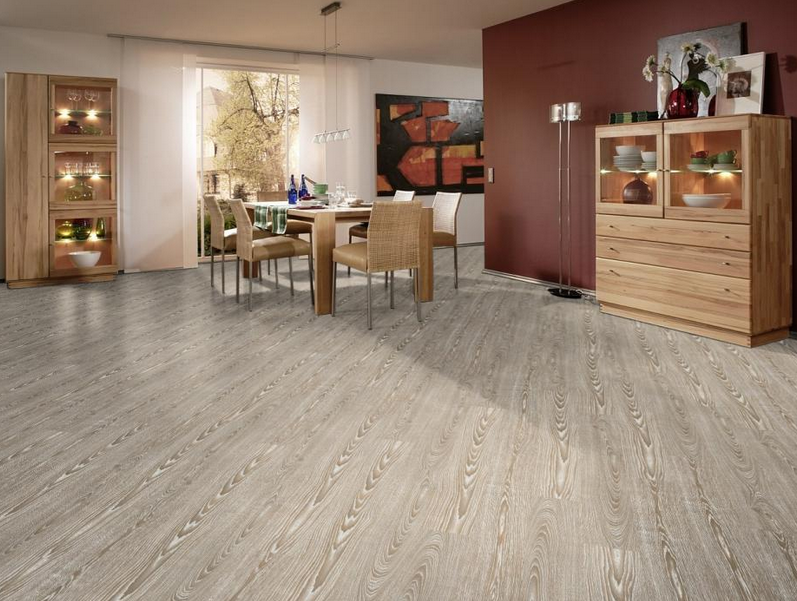 Furniture, lighting, wall decoration, ceiling, flooring, curtain are several large parts in home decoration. I mainly introduce the knowledge of choosing flooring in this article.
Common Classification of Flooring
1. Solid Wood Flooring
Solid wood flooring has natural texture, good touch and can adjust the indoor moisture and temperature. Here is the information of wooden flooring that expect will never tell you.
2. Engineered Wood Flooring
Engineered wood flooring is made by cutting board into sheet, recombining them and applying wood veneer on it. It overcomes the defect of deformation for solid wood. It not only retains the natural property of solid wood on appearance, but also reduces the unstabilizing factor on its performance. In a word, it is attractive on appearance and practical in performance.
3. Laminate Flooring
Laminate flooring is made by high density fiberboard, decorative paper and wear resistance paper and processed by high temperature and high pressure. The color, pattern and style of it is not limited by the natural performance as solid wood. Wear resistance, good anti-fouling performance, easy to maintain and cheap in price are the feature of laminate flooring.
If you are busy and have no time to do housework, there is not much budget on flooring, laminate flooring is recommended. If you like to enjoy the natural, warm, elegant feeling of solid wood and have enough budget on it, then you can choose solid wood flooring. Engineered wood flooring is also good choice for it has moderate price, stable performance and is easy to maintain.
The Selection Method of Flooring
Different flooring represents different style and mood, choose the style you like matters. With the development of flooring, varied flooring color and pattern can satisfy different people's aesthetic demand. It can match well with different interior design. So home owners should not be stick to the style of flooring.
1. Tree Species aren't as Important as You Think
Combine appearance and performance together. People will be happier when they live in house decorated according to their will. So choose flooring with attractive appearance to you. The salesman usually will introduce flooring made from different material to customer. This make the question which tree species is better become frequently asked question when shopping in furniture store. Home owner need to know that the reason we choose tree species is for their performance. But we should also take interior design style and budget into consideration.
2. Decide the Size of Flooring According to Space Area
The size of flooring refers to its width, length and thickness. Wide and long flooring often create noble visual effect. The larger the width and length of flooring is, the larger the deformation possibility. Therefore, the technology of producing large flooring is also the factor that customer should consider when shopping. Besides, the size of flooring is also limited by the paving area. The thickness of solid wood flooring is 18 cm, engineered wood flooring is 15 cm and laminate flooring is varied from 8 to 12 cm.
3. It is Normal to Have Chromatic Aberration
Chromatic aberration is the problem that affects customer's decision. In fact, it is normal to have chromatic aberration for solid wood flooring. It shows the natural look of solid wood flooring.