One of the most common trends in Indian ethnic wear, Anarkali suits have been our favourite. The beautiful actress Madhubala, who wore it for the cult song 'Pyar Kiya toh Darna Kya' from Mughal-e-Azam, popularized this trend. It gained prominence during the 1970s and 198s after famous celebrities the likes of Jayaprada, Sridevi, Madhuri Dixit and Divya Bharti rocked the anarkali style on the screen.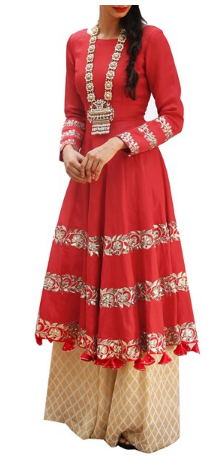 Now, this trend has made a comeback, and it is back with a bang! Not just in the Indian fashion industry, but also in the International sphere, fashion designers are using this trend for their signature designs. In fact, nowadays, you can find the most fashionable Anarkali suits online that are nothing short of mesmerizing. This beautiful piece by Joy Mitra is a wonderful example for the different contemporary ways in which Anarkali suits have made a comeback.
Despite its immense popularity, there are many things we do not know about Anarkali suits. So, here are five things you might not have known about this fascinating fashion trend that are surely going to pique your interest in them!
Historical Significance
Believe it or not, Anarkali suits have historical significance. This fashion trend got its name from Anarkali of the Salim-Anarkali story. Hence, the inspiration was the woman who had a stormy affair with Salim, Emperor Akbar's son. This trend gained high popularity during the Mughal era and was worn during Mujra, which was an art form.
The Perfect Canvas
Anarkalis are long and they involve a lot of surface for beautiful embellishments and embroidery. Hence, it is perfect for exhibiting intricate zari work or sequins. Stone, beads and lace borders also work beautifully with Anarkalis as there is a lot of scope for design and decoration in the attire. From all the designer dresses online, shopping for an Anarkali is the easiest as one can easily decide the artwork by simply looking at the outfit. Hence, what you see is what you get.
Churidars
Anarkalis are always worn with a pair of churidars and there is a reason for that. As Anarkali suits have a lot of flow and are spread out, it is a bad idea to wear them with loose pants as that completely submerges the effect of the Anarkali. Churidars are bottoms that gather around the feet, giving a chudi (bangle)-like effect. This aspect goes very well with an Anarkali, which is freer and umbrella-like.
Influence on Bollywood
The influence of Anarkalis on Bollywood is immense. This is probably because Anarkali suits allow for great movement, and are perfect for dances and songs prevalent in abundance in Bollywood movies. They also give a festive look and can be worn for various occasions by celebrities.
Versatility
Anarkali suits are perhaps one of the very few outfits that can be worn on all occasions. Depending on the event, they can be fashioned in appropriate colors and designs. If it is for everyday use, they can be made out of cotton and in light colors. However, for weddings, the same can be made using silk and bright colors with heavy embroidery.