Goa is one of the most favoured destinations for all the tourists in India or flying to India. The place gives limitless opportunities to people who are adventure freak and loves to indulge in breath-taking activities. Adventure rides are not only limited to land but is also arranged in water. Both kids and adults can equally participate in various adventure sports and have their individual share of fun.
You can indulge in scuba diving, which is organised at Grande Island in Goa. This is a 45 minutes activity conducted by experts providing an international standard of safety. You will also be accompanied by experts and trainers during the diving session.
You can try out other water sports activities like angling, water-skiing, parasailing, wind-surfing, banana boat riding, and swimming. These water sports are on the bucket list of almost every tourist visiting Goa.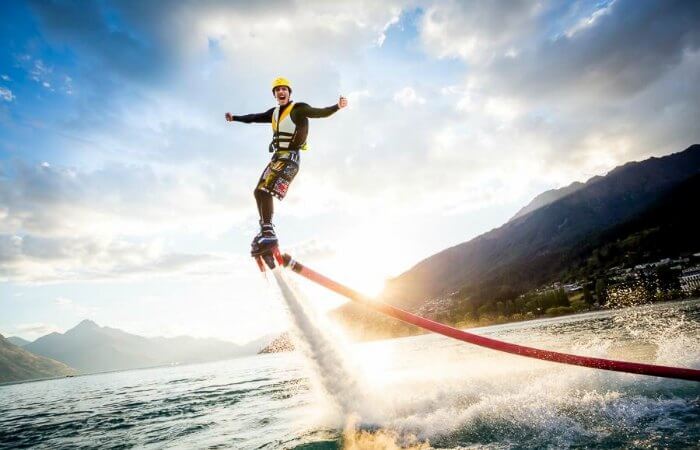 Another famous water sport is the white water rafting in Goa. The ideal time for rafting is from June to October, during the season of monsoons. You can refresh yourself by indulging in this experience filled with thrill and adventure organised on the Mhadei River of Goa. This is a unique experience of 2-3 hours and is ideal for beginners. You can either go for a morning or an afternoon rafting trip. If you are way too fascinated by one rafting experience, you can surely opt for another trip. You will have to raft for 10 kilometres, and as you sail ahead, you can visualise the beautiful picturesque landscape of Goa. Children below 12 years of age are not allowed on this trip.
If you are done exploring all the water sports of Goa, you can also try out the Hot Air Balloon Adventure. This 30 minutes ride is organised in South Goa, where you can explore the beautiful beaches of Goa from a height of 900 feet above the ground. This activity starts around 6.30 AM in the morning and safety experts will track your balloon to ensure a safe landing.
You can also trek to Todo Waterfall in Goa to enjoy the natural beauty of the place which is untouched by human activities. You can thoroughly enjoy in the wilderness, have lunch and trek to the summit. It is an entire day's program and therefore keeps one day extra for this trek separately.
Other than water sports and beaches, another famous sport of Goa is Quad Biking. You can ride through tricky, mud roads in and around the forest regions in quality quad bikes. Or, you can also try the zip lining experience which is popularly known as 'Flying Elephant' activity.
Even if you are not an adventure junkie, there are various other things to do in Goa. You can watch the magnificent sunrise and sunsets at any of the beaches or take to tour to visit Fort Aguada. You can also enjoy the sightseeing tour of South Goa where you can see the famous church of Bom Jesus Basilica and St. Cathedral Church. You can pay homage in the famous ShriMaruti Temple and visit the Dona Paula jetty. Lastly, you can also spend your time cruising on the Mandovi River.