The prospect of paying for purchases with a smartphone once seemed like a foolish dream, but now, mobile payments are taking over every imaginable industry. Businesses and consumers alike adore the convenience of mobile payments, which allow them to bypass many of the inconveniences associated with traditional cash, check and credit card setups.
Mobile payments currently generate an annual $50 billion in revenue, but that figure is expected to rise to an astounding $142 billion by 2019, according to an industry forecast from prominent research firm Forrester.
Mobile payments can prove useful for businesses of all sizes and in all industries, but only if used correctly. The following are just a few tactics companies can use to fully harness the power of mobile payment booms:
Amp Up Mobile Security 
Perhaps the greatest concern preventing small to midsize businesses from adopting the mobile payment approach is the continued fear of security breaches. Although this is a valid concern, Near Field Communication wallets are, in fact, believed to be far more secure than traditional credit cards with magnetic stripes.
Convincing consumers of this may be a bit of a struggle, however; a recent survey from ChangeWave Research indicated that 47 percent of those unwilling to use mobile payments avoided this approach due to security concerns. The best way to promote use of mobile payments among consumers is to provide a secure network and stick with a trusted wallet provider such as Google or Apple.
Extreme Couponing — Mobile Style
Consumers reluctant to take advantage of mobile payments are far more likely to take what they perceive to be a significant risk if they are rewarded with major discounts. The opportunity to redeem coupons without having to bother with scissors is very enticing to some consumers, especially if they have the ability to present these coupons while checking out.
Starbucks has paved the road to success in mobile couponing and loyalty programs, with millions of dedicated coffee drinkers enticed by the company's slick mobile system. The Starbucks mobile loyalty program allows members to keep track of points accrued through regular purchases.
These points ultimately result in special offers and coupons, which can be conveniently redeemed with a simple swipe of one's smartphone screen. Several businesses are following in Starbucks' footsteps and reaping the rewards.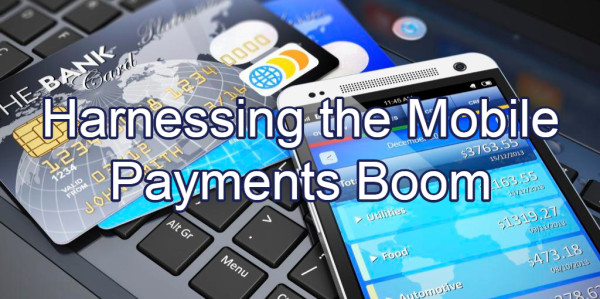 Continue To Maintain Alternative Payment Options 
Although popular, mobile is by no means the predominant means of paying for purchases. It may become the go-to form of payment in the future, but even then, the maintenance of alternative payment setups will still be advisable. Just as most locations still accept cash in spite of the takeover of credit cards, companies are encouraged to continue to accept credit cards after they have adopted mobile payment systems.
The key to mobile payment success involves excellent security, enticing coupons and the maintenance of an alternative for those slow to adopt new technology. Equipped with these tactics, businesses willing to adopt mobile payment systems are sure to benefit from increased consumer loyalty and an ensuing uptick in profits.
Katrina is the resident how-to gal for rack solutions visit her video series on youtube called ask Katrina.