Most of us spend a good chunk of our morning in the bathroom getting ready for the day ahead. Showering, applying makeup, brushing our teeth, shaving, and styling hair are just some of the things that make up a morning routine. All of these routinely tasks are best done in a bright, well-lit bathroom. However, good lighting is not the only thing that matters in a bathroom.
Since many people also use their bathroom as a place to escape from the world and relax in a hot bath at the end of the day, you will want your lighting to be both practical and soothing.
General Lighting
In order to create a homier affect, you will want to avoid using too many bright lights throughout the bathroom. Use bright lights only where necessary and supplement them with soft lighting that fills the space without being too harsh or having a blinding effect. Spotlights placed on key artworks or decorations can help to brighten the space without being too harsh. It can also create lovely focal points.
Your overhead lighting should be mellow and is often complimented by using a dimmer switch, allowing you to control the precise level of lighting. In the morning when you are getting ready, crank those lights up to maximum to help you wake up and get a good start to your day. When you need a relaxing evening bath, set the lights dimmer and use some candles to create a cozy, soothing atmosphere.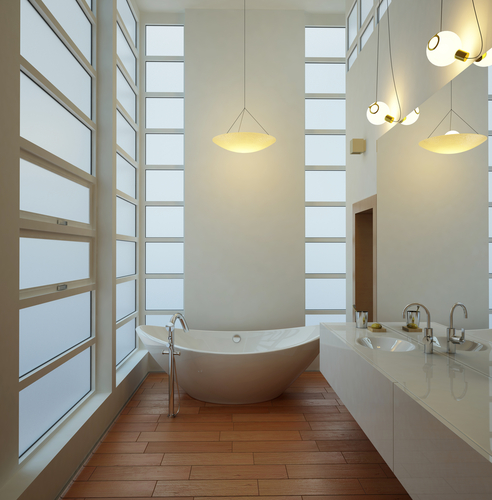 Natural Light & Windows
Don't forget to consider how much natural lighting your bathroom gets on a typical day. Think about what times of day you commonly use the bathroom and consider which direction your windows face. You may wish to place mirrors in strategic locations around the room in order to make the most of natural light. Alternatively, you may want to invest in some good curtains to control how much light comes in at certain points of the day.
A sleek glass shower enclosure is a great way to make the most of natural light, but shiny fittings and white accents can also help to reflect and maximize whatever light comes in the windows.
Task Lighting
Another type of lighting you will need is task lighting around your vanity and sink. Proper lighting around vanities are essential to comfortable, easy grooming. It should always come from the front to avoid casting shadows across the face. Many vanities on the market now include lighting with several different settings, which are perfect for applying makeup without worrying that it will look significantly different under various lighting.
Lighting can make a big difference in how makeup appears, which make task lighting a highly useful feature for people who work under fluorescent lighting and want to ensure they always look their best.
Also, you will need task lighting around the shower enclosure area and near the bathtub. Downlights are often a good choice for these areas, as they provide significant lighting without being too bright or harsh.
If you keep less storage cabinets and use instead bath and shower accessories, it will leave a lot of space and which in-turn will help the light to reach all the corners of the bathroom, this enhances the beauty of your bath.
Being a home renovator gives me a great satisfaction. The happiness that you bring into someone's life, just through your work, can't be expressed in words. I have been in the home improvement industry since quite a long time and have never felt my work anything other than interesting. I consider being a part in bringing someone's dream come true, the greatest happiness and virtue. – John Medina