Football is the national sport – almost a tribal belonging – and the dream of almost every child at some point in their life is to become a footballer for their team. Few of us realize this dream and most children will be picked up by their local academy team early on they show promise in this sport, but the next best thing must be to be able to develop the skills of those who do go on to play. Coaching, at all levels, is a very real and valuable way to contribute to the sport and is also a very real necessity.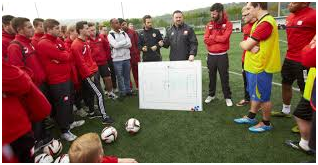 What is involved in coaching?
Coaches work at all levels, from very young children right through to adults. Some work alone, while others work as part of a team at a bigger club. As a coach, you will plan and run the coaching sessions and advise on all aspects of the game, from tactics through to nutrition and mental strength and discipline. You will work together with other key individuals within a club, including the manager, physiotherapist, and other important individuals.
Increasingly, and depending on the level at which you are coaching, there might be contact with the media to inform them of any upcoming matches or to discuss any new players that you have signed to the team.
In return, you can expect a starting salary of between £14,000 and £21,000, rising to £250,000 for those in Football League or Premier League positions. As a community role, you might not attract a salary at all, or it might be an hourly rate; however, this gives you the experience to pursue a full-time position.
You will need to be a great communicator and sensitive enough to give constructive feedback to different people. You will need to be flexible and organized, as you will also be responsible for things such as Football Kits. You can order football kits from kitking and making sure the squad turns up in the right kit and that it is clean.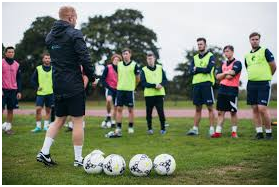 What next?
For more information about how to start your new career and train as a football coach, check out the advice on the Football Association website. You will find details about the coaching qualifications and where you can study. These qualifications can be completed as part of a wider sports degree.
Coaching is not a 9-5 job, so flexibility is key, as is a love of the sport. There will be training during weekday evenings, with matches and more training at weekends. The level at which you coach will determine how far you need to travel and how regularly, with a driving license likely to be a requirement. Within reason, training and matches take place whatever the weather.