It is said that "True wealth is not of the pocket, but of the heart and of the mind."  When you get something that is appealing, classy and elegant, at a price that would never pinch your pocket, is the best kind of investment that one can do. Men and watches go hand-in-hand when it comes to making a statement of their own.  There is a misconception in the minds of people that only expensive timepieces are worth buying and, if someone cannot afford one, then he should not buy it at all. As human beings are evolving every passing day, so is the idea of watchmaking. Earlier only expensive timepieces were worth buying but now, you can definitely get a good watch with all the latest features at an extremely pocket-friendly price. One of the best examples for it can be Hybrid Smartwatch – Q Goodwin Smoke Stainless Steel. This Fossil watch is everything that you are looking for in your budget.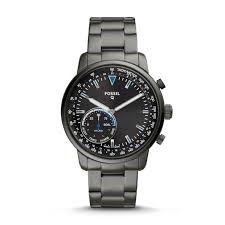 Features of Hybrid Smartwatch – Q Goodwin:
A charming watch-look smartwatch, this fossil watch has everything that you are looking for in an expensive timepiece. The smoke stainless steel bracelet will definitely render you with class, sass and elegance altogether. It offers a royal look that will be very impressive for your next big meeting. Not only the mesmerizing looks but also the features will force your mind to buy this beauty and flaunt it in the world. This Hybrid Smartwatch- Q Goodwin Smoke Stainless Steel of 44mm is powered by the Fossil Q Application and is compatible with Android™ OS 5.0+ and iOS 9.0+ devices. An in-built tracking activity features, along with vast connectivity with different devices makes it a technologically-friendly watch.
Technical Details
Sensors
 Accelerometer
Compatibility
 Android OS 5.0, iPhone 5/iOS 9.0
Connectivity
 Bluetooth® Smart Enabled / 4.1 Low Energy
Battery Type
 CR2430
Battery Life
 Up to 6 months
What's In the Box
 Quick Start Guide
FUNCTIONALITY
Activity Tracker
 Built In Fitness Tracker
Notifications
 Social Media / Text / Email / App Alerts / Multiple Time Zones / Alarm Clock / Calendar Alerts
Charging
No charging needed
It is not just another ordinary watch. This Fossil watch for men is a complete value for money with the latest advanced features like notification, activity tracking, automatic time zones, music controller and alarm with water resistance as well. Wireless syncing, stopwatch, date reminder and clicking a picture, you name a feature and this watch owns it.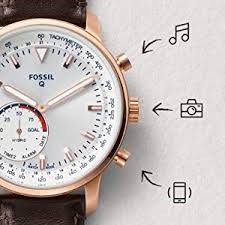 The watch syncs with your phone and these amazing customizable buttons help you control your music, check the date or anything else as customizable by you according to your preference. Capture a picture of you and your friends with just one click of the button and become the most gushed about a person in the group. It is available in strap look as well so that you can go for the one that suits you the best.
Price:
So you can hold your breath to know the price of this multi-functional watch. It's Rs. 12,600, yes it is. With such a reasonable price, you are getting the features of an expensive smartwatch which is definitely worth giving a thought. This smartwatch in a beautiful watch body with such great pocket-friendly price can definitely hold a place in your wardrobe and enhance its beauty. This kind of a watch package (both features and price) would surely make you feel good in the end.
Conclusion:
There is a lot of competition in the market these days and everybody tries to stand out from the rest in one way or the other. This theory is applicable to brands as well as people wearing them. In order to stand out, you have to make things worth having or looking. On one hand, with such advanced features at such great price, this Fossil watch justifies every single rupee that you are investing in making it worth having. Whereas, once you are carrying this watch on your wrist, it will definitely make you feel like a thousand dollars. It will not only enhance your looks and charm but also help you build confidence to stand out from the crowd making it worth looking. One should surely invest in such a watch that is worth all your TIME and MONEY.