One can clearly hear the sound of wheels of royal Rajasthan chugging in as the train passes through the Thar Desert of Rajasthan. The royal carnage filled with charms and royals of the regal era; the beauty of elegance passes through some of the most admired royal cities of India. Taking its guests on a royal journey it takes them through princely states like Jodhpur, Udaipur, Chittorgarh and Sarnath and Varanasi. It also passes through a passage of history and architecture in places like Khajuraho and Agra. Renowned for their design, structure, built and anatomy – these two places are more than just pieces of marvel and anxiety of Kings and Queens. Royal Rajasthan on Wheels is simply a mystic locomotive; engulfing in its interiors the culture, heritage, thoughts and ideas of the gone by era! It's simply amazing!
The Royal Grandeur and Elegance
The royalness of this journey begins from the Safdarjung station itself when its guests are welcomed in a traditional manner with garland and Tilak. The feeling of being grand just begins here. On boarding the train begins on entering the cabins which are elegantly decorated with miniature Rajasthani paintings, wall to wall carpeting, silken bed sheets, channel music, intercom, attached toilets, running hot and cold water, a personal attendant or helpers. What makes the lifestyle more interesting is the individual mini bar inside each cabin which is well stocked with various spirits and a lounge for relaxing! One can see wall paintings like Dhola Maru traditional painting, relief work with oil and paint on the ceiling influenced by Mughal era paintings as well as Bikaner School of Art. Fine wooden carvings on the windows and paintings of Bundi, lattice work, mirror work , intricately carved lattice haves and the royal insignia which can be seen almost all the cabins of the train. All the cabins have been named after the kind of city and architecture its depicts. So choose wisely while going for booking of royal Rajasthan on wheels – after all, it's a one – of – its kind ride on one of the most admired luxury train tour India!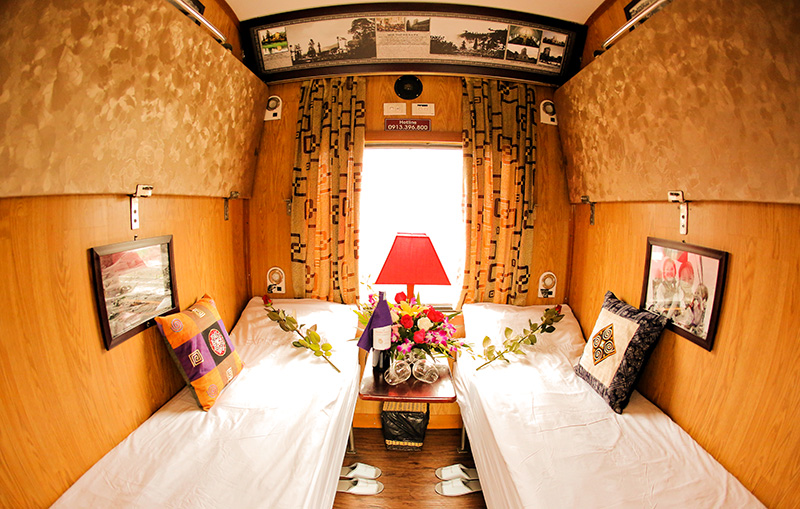 Cabins and Cost
Royal Rajasthan on Wheels Tour offers one of the most unique experiences of life. From comforts to elegance everything is beyond words. Making its guests spellbound with its charms and etiquettes; it offers Deluxe Cabin on Single occupancy, Deluxe Cabin on Double occupancy and Super Deluxe Cabin on Single or Double occupancy. Government service tax is levied as TAX, 10% EXTRA Holiday surcharge additional for 21st and 28th December departures and commercial tax is also implied. In this train, there is an option to book minimum 5 night's part journey and pay accordingly if one wishes so. For more information on this one can visit the website of Royal Rajasthan or ask one's travel agent. The total train tour includes onboard stay and all meals, group excursions and sightseeing tours in air – conditioned coaches with English speaking guide all the time, boat ride in Udaipur Lake, canter ride in Ranthambore, boat ride in Varanasi, elephant ride in Jaipur and monument entrance fees. Extra cost like Video Camera fees at monuments and National Park, use of spa facilities, porter fee, tour insurance, personal nature expenses and tour insurance are NOT INCLUDED in TICKET PRICE OF THE TRAIN.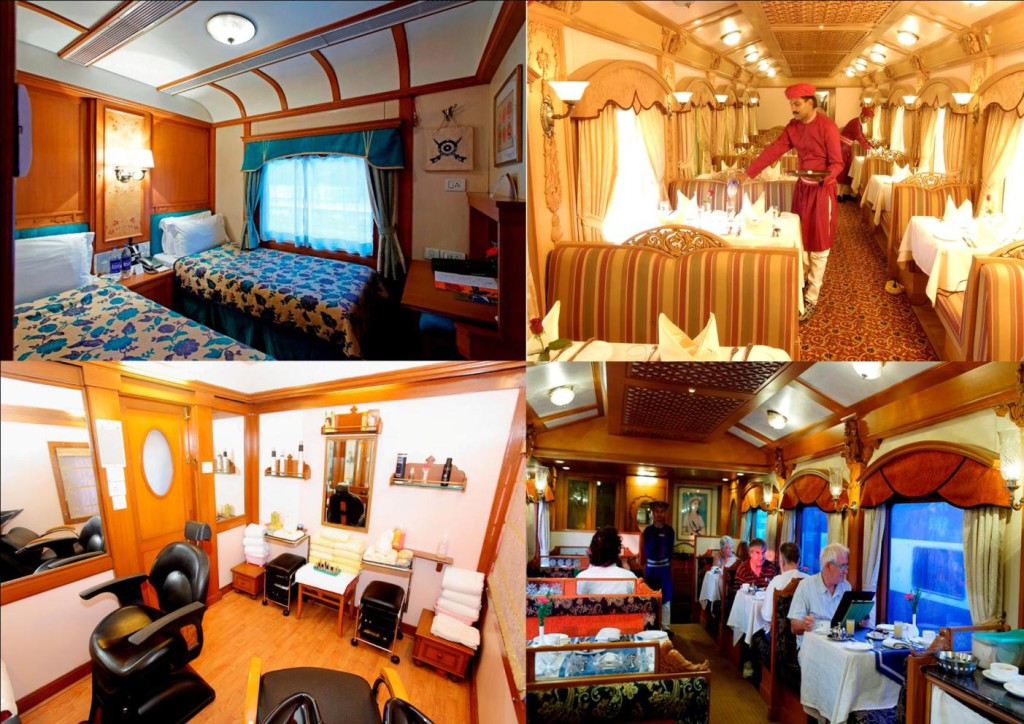 One can make payments via any international Debit or Credit card unlike earlier option of only American Express Cards. Swift wire transfer or Indian rupees via RTGS can also be used to make payment for the bookings. Bookings will be confirmed only after the full receipt of the amount mentioned in the transaction. Any transaction failure is considered as Non – Booking or on – confirmation of booking. Disputes if any are subject to the jurisdiction of New Delhi INDIA courts only.
For bookings guests' name, nationality, date of birth, address and a copy of passport (if applicable) are required. Full payment is required to be made before 65 days of tour date along with the photocopy of passport (for international travellers) and ID copy (for national travellers). Many people come with the idea that royal Rajasthan on wheels is for foreigners only, but in fact, it is not so. Anyone willing to explore India in one of the most unique and amazing ways is welcome to do so!