When you are making a train journey overnight or more than 10 days, you need to be well-prepared. You need to pack certain things which are important for your journey. For example, you need a torchlight to check toilets, seats and other corners when the light is out. While making a journey, you should carry lightweight materials so that it becomes easy to move. Today, you will get a list of things to carry while traveling by train. Read on to know more-
Sleeping Bag
You can definitely sleep on the bunk, but if you need additional comfort, carrying a sleeping bag is a good option. The sleeping bag is quite lightweight and comfortable for you. It is also suitable for small space as the bunkers are not that much spacious. If you are traveling through chilled areas, having a sleeping bag is the best thing to have a comfortable sleep onthe train.
Air-tight Containers
You can trust in the delivery of food by train. In that case, you won't need to carry any food. But, if you prefer to have your own food while traveling, take them in air-tight containers. Those keep your food fresh. If you are carrying a sandwich, wrap it in kitchen paper and keep it in an airtight container. You can have it as it is, no matter when you eat it.
Books
Yes, you can also carry an e-reader. But, whatever it is, reading objects can kill your boredom at once while traveling by train. If you are traveling for more than one night, it will get monotonous after a few hours. Grab the corner of your seat and indulge yourself in reading something yourfavorite. You won't realize when you make up the journey.
Water Bottle
Water is a must while traveling long distance. Carry your own water bottle so that you can fill it from any water sources at platforms. Today, there are water purifiers on several platforms. Try to have that water only. You can't even believe the packaged mineral water bottles. You never know how cheats fill them up from any water source and seal them again. Stay away from those to avoid water-borne diseases.
Medicines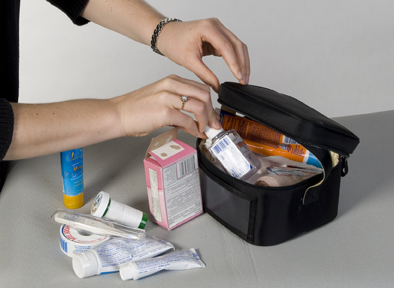 These are also essentials while traveling by train or making any journey. You never know when you will feel unwell. Carrying certain medicines can give you quick relief from your problems and make your journey safe. But, you should always consult with your doctor before taking them with you.
Fresheners
In maximum cases, when people get down from the train, they look like zombies. You definitely don't want to look like that. Carry certain fresheners and makeup objects to look presentable even during the most tiring journey. Have your facewash, soap papers, etc. handy whenever you need them
So, these are six things that you should carry while making the long journey by train. Once you are ready, you can set forth for your journey.